Trends Fall 2014:
Brand:  Gamme Rouge
"On average, coats hovered around the knees, which were almost always clad in sport leggings, their cuffs sheer and ankle-baring. The mixing made all the difference; a champagne-hued Persian lamb coat ringed with a triple stripe of pylon-orange mink opened the show. Midway through, in the droll-meets-drab UPS uniform grouping, a crocodile front gave way to a Persian lamb back. A fuller A-line coat bifurcated a camo print up top with a raw-edged Persian lamb skirt. Speaking of which, the prints came from graffiti artist Maurizio Cannavacciuolo, whose drippy effects and text-image interplay counterbalanced the haute fabrications and will likely find an eager audience among men (who will finally be able to purchase the Gamme Rouge runway looks this fall). 

Both men and women, though, will appreciate the all-purpose accessories, namely a croc card case dangling from a coat strap, baseball-beanie hybrid caps, and thick-soled slip-on sneakers. All three details might have gone unnoticed had you been distracted by a mise-en-scène"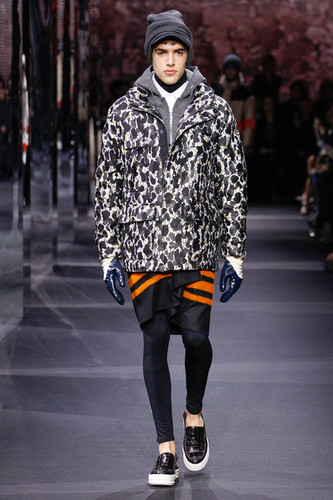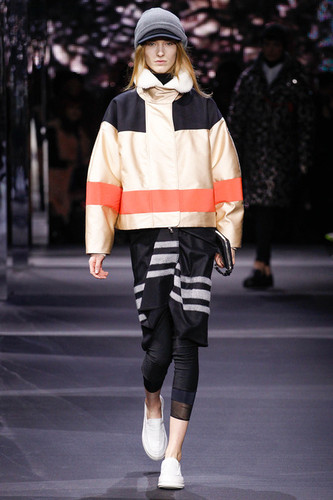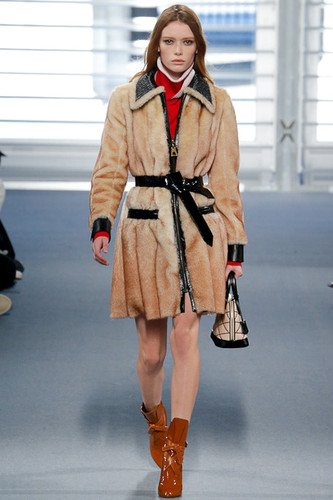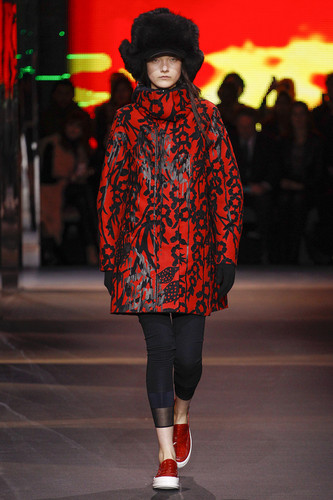 Brand: Louis Vuitton - Trends fall 2014
In the runaway was predominant the" caramel-colored collar, the new Petite Malle bag, a miniature LV trunk. The coat's flared A-line cut and abbreviated thigh-high hem was the show's predominant silhouette, but if that shape cued a 1960s vibe, the workmanship was 21st-century state of the art. You won't find a more luxurious coat than the black crocodile shown here, despite its industrial zip front, or a jacket as well made as the one he patchworked in different colored leathers."

Naturally, there were a lot of skins, a lot of suede, a lot of leather, and naturally Ghesquière used them in innovative ways. A pair of cool evening looks had molded leather bodices and knit skirts aswirl with hand-cut feathers. Skirts and dresses were squarely the focus, yet fans of Ghesquière's life-changing trousers could take heart at the sight of a high-waisted style into which he tucked a khaki jacket. In any case, there will be plenty of seasons for pants. This was a great beginning, understated but not without power, for Ghesquière and the new Louis Vuitton.
See some details of the trend: